In recent years, cooler hair colors like ash have gained popularity, leading to a wide range of hair toners for brunettes and blondes. How to tone brown hair to ash?
The ash hair colors spans from light ash blonde to dark brown ash, and fortunately, there are numerous toners available to cater to each hair shade. While toners often create better results on blonde hair, there are still excellent products to work effectively on darker hair or brown highlights.
In this blog post, Jen Hair will walk you through the best methods on how to tone brown hair to ash to achieve the desired ash toners. There are also four top product suggestions to assist you on your hair toning journey. Keep reading!
How To Tone Brown Hair To Ash Guide
In the following section, we will different methods on how to tone brown hair to achieve that coveted ash hue.
How To Tone Brown Hair To Ash Using The Color Wheel
Before we delve into the process to tone hair to ash brown, it is important to grasp the basics of the color wheel theory. The color wheel consists of various colors, including a special group of complementary colors. These complementary colors are positioned directly opposite each other on the color wheel.
The complementary colors can neutralize or cancel out each other's effects. An example of this phenomenon can be observed with purple shampoos. Since purple sits opposite to yellow on the color wheel, purple shampoos are utilized to counteract unwanted yellow tones in blonde hair, leaving it with a platinum hue. This is how to tone blonde hair to ash brown works.
Similarly, if your goal is to tone your brown hair to achieve an ash color, you will need to counterbalance red and orange undertones in your hair. In this case, blue serves as the complementary color to orange on the color wheel. So, if your hair exhibits brassy or coppery notes, a blue-tinted toner can be helpful in neutralizing those warm tones.
Conversely, if your brown hair has a reddish or auburn hue, you can experiment with green products as green is the complementary color to red on the color wheel. Using a green-toned toner or shampoo can counteract the red tones, resulting in a more ash-like appearance.
A Hair Toner
How to tone brown hair to ash? If you are a natural brunette while your hair is in a brown shade and desire to achieve a more ashy look, a hair toner is a fantastic option.
Unlike hair dye, a hair toner does not change the color of your hair much. Instead, it introduces pigments that help counteract specific undertones.
Typically, toners are employed following a hair coloring session to attain the desired shade of blonde or brunette.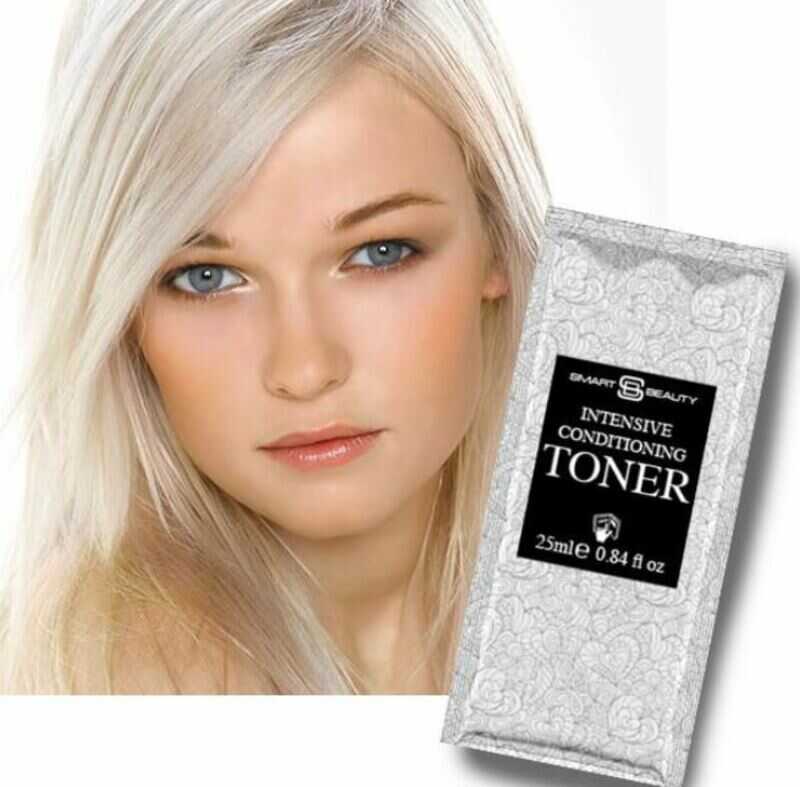 You may be familiar with purple toners or blue toners to eliminate brassy undertones from blonde hair. However, it is important to note that hair toners are available in various shades. This includes blue toners and green hair toners.
As mentioned earlier, you can neutralize reddish undertones in your brunette hair by a green toner, while blue toners can help counter orange tones.
Using a toner is a straightforward process. You simply apply it to your hair and rinse it off after a few minutes. It is quite similar to using a conditioner or hair mask.
In fact, many hair toners also function as conditioners and masks as they contain nourishing ingredients. This makes them an excellent choice if your brunette hair is dry or damaged.
A Blue Shampoo
There are instances where a hair toner is not the most convenient option. In such cases, if you desire to maintain an ash brown shade regularly, it is worth considering a blue shampoo. How to tone brown hair to ash at home?
A blue shampoo is similar to regular shampoo, but it contains a significant amount of blue pigments. These pigments play a crucial role in neutralizing orange tones in your hair, resulting in a cool and ashy appearance.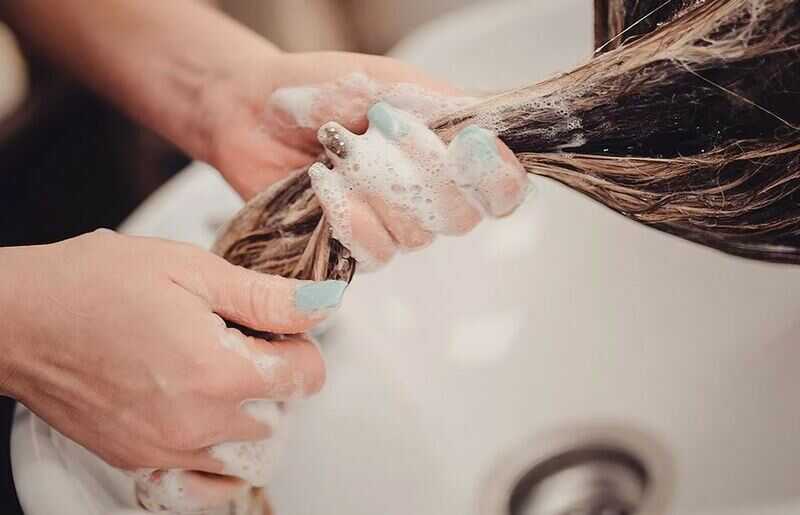 The advantage of using a blue shampoo is that you do not need to leave it on your hair for an extended period. However, remember not to use blue shampoos more than once a week because excessive use can lead to blue pigments and can even cause staining on your scalp. Furthermore, using a blue shampoo regularly can turn your ashy strands blue over time. It is essential to be mindful of this potential outcome.
Additionally, like other shampoos, blue shampoos are available in both sulfate-based and sulfate-free variants. If you have dry or damaged, you should opt for the sulfate-free options.
A Temporary Hair Dye
When using a blue hair toner to achieve an ash tone on brown hair, the results can last for approximately 4-6 washes. Therefore, it is not a long-term solution for how to tone brown hair to ash. On the other hand, using blue shampoos carries the risk of staining, which is something to be cautious about.
In such a case, the best alternative is to consider using a temporary hair dye. Here, you can find a hair dye to replace the reddish undertones in your brown hair with ashy undertones, without the need for a strong chemical dye.
However, be cautious when selecting the shade of temporary hair dye. Many hair dyes are labeled with a number to correspond to the concept of colorimetry. Each color is assigned a number between one to ten, in which black hair is represented by number 1, and light, platinum blonde hair is represented by number 10. Brown hair falls within the middle range, dark brown in level 3, medium brown in level 4, and light brown in level 5.
For optimal results, it is recommended to choose an ash brown hair dye that matches the level of your natural base hair color. For example, if you have dark brown hair (level 3), you should opt for ash brown hair dyes marked as 3.2. You can apply this formula on how to tone down ash brown hair.
On the other hand, you can choose a hair dye that makes your hair appear lighter or darker, depending on your preferences. However, if you want to minimize reddish highlights in your brown hair, following the above method is a wise decision.
Which is the best ash toner for brown hair?
When it comes to finding the best ash toner for brown hair, it can be overwhelming with the plethora of options. In this part, we will narrow down the choices and provide you with the most highly recommended ash toners.
Semi Permanent Dye: Clairol Natural Instincts – 6A Light Ash Brown – For Dark Brown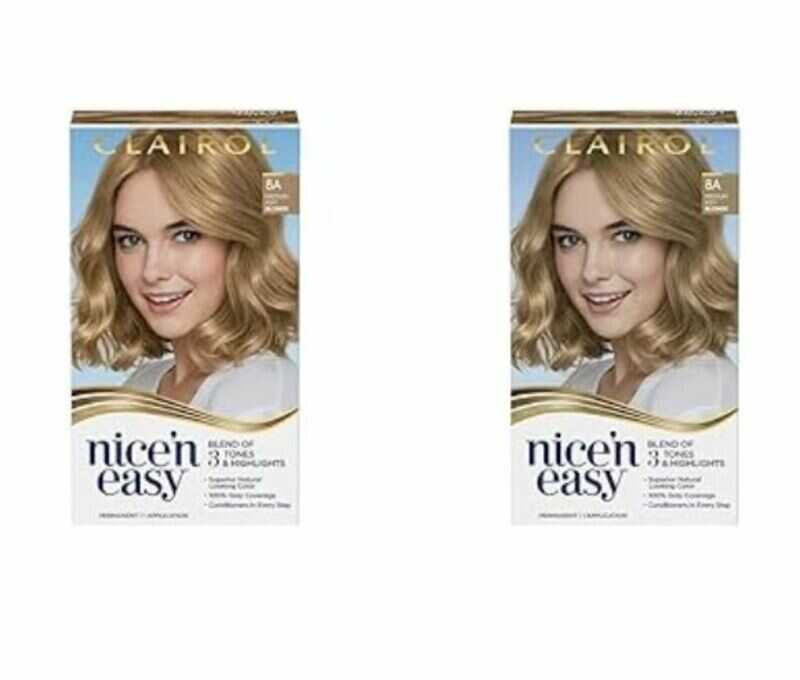 Clairol Natural Instincts offers light cool brown shade that effectively transforms warm brown hair into an ash-brown color.
While this product is a hair dye rather than a toner, it is the easiest method to achieve a medium ash color from natural brown hair. If you are dyeing your hair for the first time, this product is helpful for attaining an ash color that complements your natural hair shade. It imparts cool undertones to your hair while maintaining a natural appearance.
The Clairol Natural Instincts Conditioning Colour is formulated without ammonia or any strong odor. Additionally, it contains nourishing ingredients such as coconut and aloe vera, which condition and moisturize the hair. With this product, the color will last for approximately 28 washes.
Semi Permanent Toner: VIPs Prestige BeBlonde BB03 – Icy Down – For Dark Brown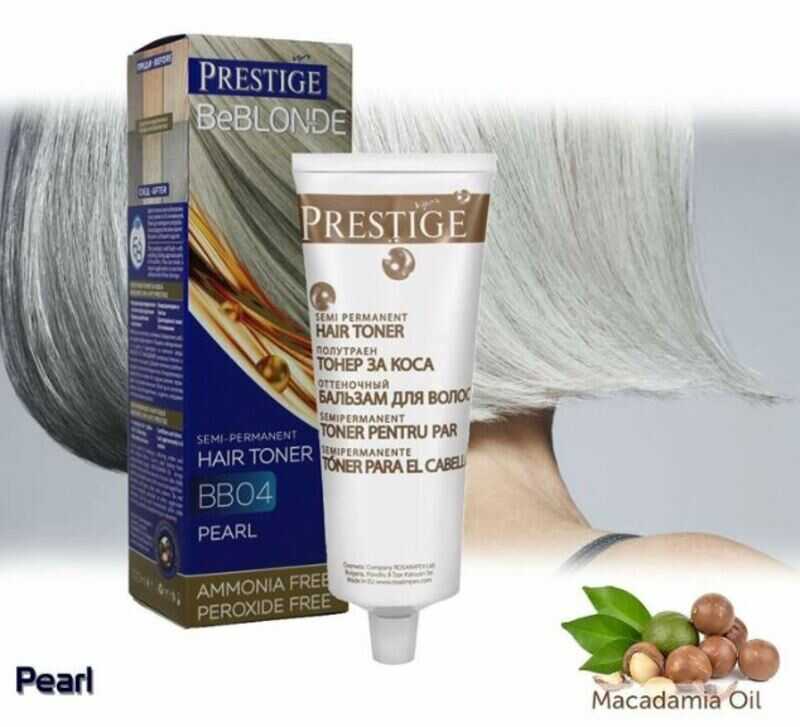 For those with dark hair, the most effective method to eliminate brassy tones is using a semi-permanent hair toner. VIPs Prestige BeBlonde offers a range of toners for brunette hair, catering to various hair colors to achieve an ashy look.
How to tone brown hair to ash? If your brown hair has yellow undertones, the ideal VIPs Prestige toner to achieve an ashy brown shade is Icy Down. This toner corrects unwanted yellowish hues that result from hair dyeing.
On the other hand, if your brown hair has unwanted orange tones, the VIPs Prestige toner "Caffé Latte" is most suitable. This toner transforms brassy hair into an ashy brown color and also works well on black hair to give it a dark ash shade.
All VIPs Prestige toners are ammonia-free and provide gentle nourishment to the hair with olive oil, macadamia oil, and castor oil. Additionally, they contain nettle, which helps maintain hair health. The effects of this product will last for approximately 6-8 washes.
Osmo Colour Revive Conditioning Colour Treatment Cool Brown – For Light Brown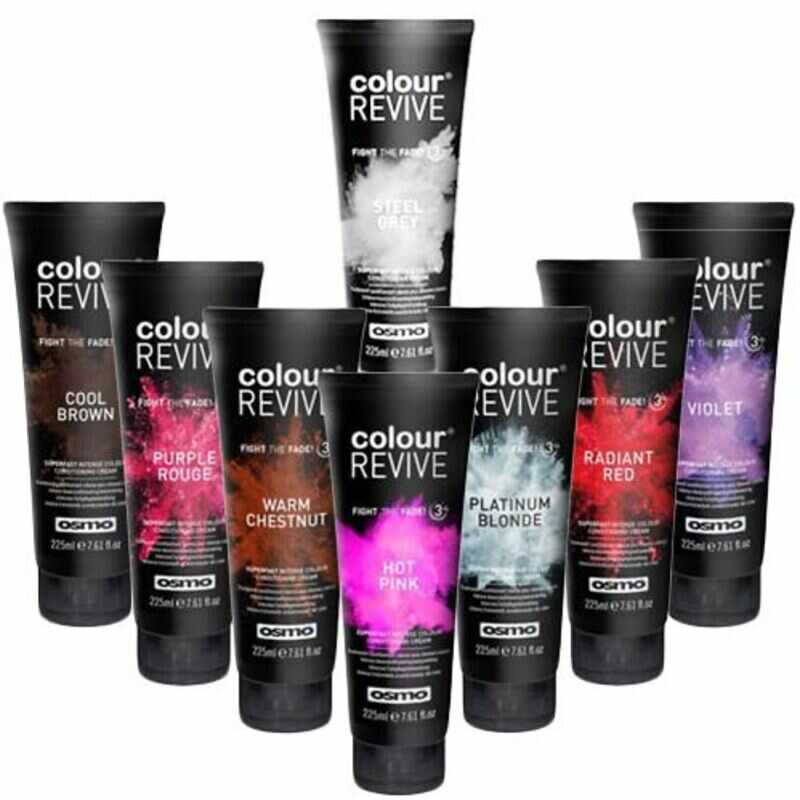 Osmo Colour Revive offers a conditioning treatment in a cool brown shade. It effectively revitalizes your hair color and prevents dyed hair from developing unwanted orange tones. This treatment is particularly suitable for lighter brunette hair shades. If your hair color has become brassy or appears dirty brown, this treatment will restore it to a refreshing icy ash hue.
The cool brown treatment is enriched with avocado oil, as well as vitamins A and E. This provides nourishment and conditioning benefits to your hair. Even more, it is completely free from ammonia and peroxide. To maintain an ash hair color, it is recommended to use this product once a week as part of your regular hair care routine.
Fudge Professional Blue Toning Shampoo  – For Light Brown
How to tone red hair to ash brown? If your brown hair bear with unwanted orange or red tones, the Fudge Professional Blue Toning Shampoo is the solution for an ash brown shade. This specialized shampoo counteracts warm tones, resulting in a cooler and more intense hair color.
The Fudge Professional Blue Toning Shampoo is formulated without sulfates to ensure a gentle cleansing experience. Additionally, it incorporates Opti-PLEX technology to not only neutralize unwanted tones but also enhances the strength and smoothness of your hair. In fact, this advanced technology can make your hair 85% stronger and smoother.
How to maintain ash brown hair?
Once you have known how to tone brown hair to ash and achieved your desired ash brown hair color, it is important to ensure it continues to look its best. Here are some tips on how to maintain ash brown hair:
Steer clear of shampoos that contain sulfates, as they have the potential to strip away the hair dye and toning pigments.

Limit your exposure to sun exposure, as it can cause brassy undertones to develop in your hair. Otherwise, protect your hair from the sun's rays to maintain the ash brown shade.

Opt for a dry shampoo for colored hair instead of washing your hair frequently. This helps to preserve the color and prevent it from fading.

Regularly use a blue or green toner every other week to keep the ashy tone looking fresh and vibrant. This toner helps to neutralize any unwanted warmth and maintain the desired ash brown hue.
To Conclude,
Whether a light ash blonde or a dark brown ash, there are toners available to cater to every hair shade. While toners are associated with optimal results on blonde hair, rest assured that there are excellent products to work effectively on darker hair or brown highlights.
How to tone brown hair to ash? With the variety of toners now available, you have the opportunity to transform your warm brown hair into a stunning ash shade. Explore the options with different products, and find the perfect toner that suits your hair color the most!