Whether you have experimented with a new hair color at home or had a professional dye job, sometimes the results are not exactly what you expected. One common issue is when toner is applied to hair, leaving it too dark, too cool, or simply not to your liking. How to remove toner from hair?
If you find yourself in a toner predicament, there is no need to panic or rush to the salon. With a little knowledge and the right techniques, you can effectively remove toner from your hair in the comfort of your own home.
In this post, we will explore seven simple methods on how to remove toner from hair to help you get rid of unwanted toner and regain control over your hair color. Each method offers its own unique approach, allowing you to choose the one that suits your needs and preferences best.
Keep reading!
Why do people want to remove toner from my hair?
People may want to remove toner from their hair for various reasons, including:
Unwanted tonal shift: Toner is often used to adjust the undertones of hair color, especially after lightening or coloring. However, if the toner results in an unwanted tonal shift, such as making the hair too cool, brassy, or ashy, they seek to remove it to restore their preferred color balance.

Color correction: If the toner does not address the issue or creates new color problems, removing it becomes necessary to achieve the desired hair color.

Change in hair color preference: Hair color choices are personal, and what seemed appealing initially might not align with an evolving style or preferences. In such cases, removing toner allows these ones to transition to a different hair color that better suits their current aesthetic.

Experimentation and versatility: Some individuals enjoy experimenting with different hair colors and styles. Removing toner offers them the flexibility to change their hair color more frequently, try new shades or techniques, and embrace their creativity.

Correcting application errors: Toner application requires skill and precision. If the toner is applied unevenly, it can lead to patchy or inconsistent color results. Removing the toner allows individuals to address these application errors and achieve a more even and seamless hair color.
How to remove toner from hair by simple methods
Clarifying shampoo
When it comes to how to remove toner from hair without damage, the immediate solution that often comes to mind is using shampoo. However, if you rely on regular shampoo to wash away the toner, you will find yourself wasting valuable time. Regular shampoos are generally ineffective at removing toners unless combined with other components.
On the other hand, if you have a clarifying shampoo at home, you can utilize it to wash away the toner. Clarifying shampoos possess the ability to eliminate oils and dirt from your hair, including hair toner.
These shampoos contain specific ingredients, such as surfactants, which primarily target and remove hair toner. It is important to note that using a clarifying shampoo for toner removal will not yield immediate results. In most cases, multiple washes with the clarifying shampoo are necessary to completely eliminate the toner from your hair.
Clarifying shampoo and baking soda
If you opt for the use of clarifying shampoo to remove toner from your hair, you need to maintain patience as the process unfolds. Removing toner with clarifying shampoo requires a gradual and consistent approach.
To expedite the process, you can incorporate baking soda into the equation. How to remove toner from hair with baking soda? Here is a step-by-step guide on how to utilize baking soda and clarifying shampoo to eliminate toner from your hair:
Combine half a teaspoon of baking soda with your chosen clarifying shampoo.

Gently apply the mixture to your hair, ensuring thorough coverage.

Allow the mixture to sit on your hair for a few minutes.

Rinse your hair carefully, ensuring that you thoroughly remove all traces of the baking soda mixture.

As part of your regular routine, apply a deep conditioner to nourish and care for your hair.
How to remove toner from hair with baking soda and vinegar
Although baking soda and vinegar are commonly found in kitchens, they can also serve as effective tools for toner removal from your hair. The process involves mixing these two ingredients together and applying the mixture to your hair. The impact of baking soda and vinegar on your hair is comparable to that of a clarifying shampoo.
However, it is crucial to exercise caution when using baking soda and vinegar to remove toner from your hair. Frequent application of this mixture can result in excessive dryness of the hair. Therefore, if you choose to utilize this method, avoid using it excessively. It is important to strike a balance and give your hair sufficient time to recover and maintain its natural moisture levels between applications.
How to remove toner from hair with lemon juice and conditioner
The most natural approach to remove a dark toner from hair involves lemon juice and conditioner. Combining these two ingredients provides a safe and gentle method for toner removal. It is recommended to employ this method within twenty-four hours of applying the toner for optimal effectiveness.
Lemon juice contains citric acid, which can cleanse and lift colors from the hair. However, it is essential to exercise caution to prevent the acid from adversely affecting your hair.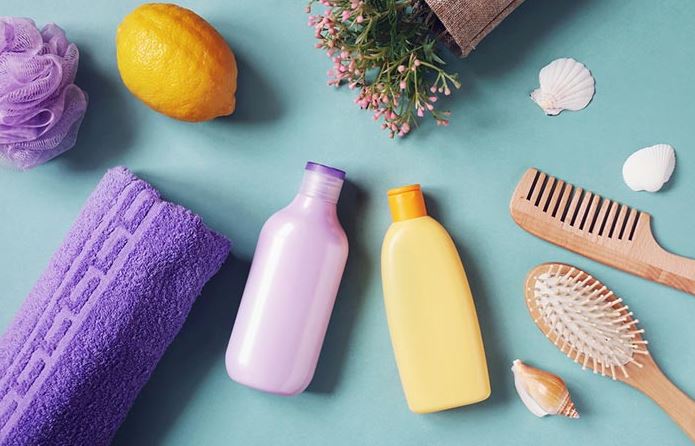 Here is a step-by-step guide on how to utilize lemon juice and conditioner to remove toner from your hair:
Determine how many lemons required based on your hair's length, typically ranging from three to six lemons.

Squeeze the lemon juice into a container, ensuring you have enough to work with.

Mix the lemon juice with your preferred hair conditioner. It is recommended to maintain a ratio of 3:1, meaning three parts lemon juice to one part hair conditioner. For example, if you use three spoons of lemon juice, add one spoon of hair conditioner.

Apply the mixture of lemon juice and conditioner evenly throughout your hair. Leave the mixture on your hair for a few hours to allow it to work effectively.

Thoroughly wash your hair, ensuring all traces of the mixture are removed. Afterward, apply a conditioner to restore moisture and nourishment to your hair.
How to remove toner from hair by dandruff shampoo
Dandruff shampoo contains ingredients designed to combat dandruff and cleanse the scalp. Interestingly, these ingredients also possess the ability to remove toner from your hair.
To remove toner from your hair using dandruff shampoo, simply wash your hair as you normally do with the dandruff shampoo. It will require multiple washes before you begin to see the desired results.
Dish soap
How to remove toner from hair extensions? The dish soap for washing dishes is specifically formulated to eliminate greasy stains. Surprisingly, when applied to your hair extensions, this soap can assist in restoring your hair to its original color. Alternatively, you can experiment with a mixture of lemon juice and liquid soap for similar effects.
Hydrogen peroxide
How to remove toner from hair fast with hydrogen peroxide? While hydrogen peroxide can be effective for how to remove too dark toner from hair, it should be approached with caution due to its potential drawbacks. Hydrogen peroxide is a chemical compound that can cause permanent damage to your hair. Therefore, it should only be considered as a last resort for toner removal.
To minimize the potential negative effects of hydrogen peroxide, you can mix it with water or incorporate it into your regular shampoo routine. If you choose to use water, apply a mixture of hydrogen peroxide and water to your hair. After approximately 16 seconds, thoroughly rinse your hair and follow up with the application of a hair conditioner.
Using hydrogen peroxide mixed with shampoo is similar to the water mixture. Once you have prepared your mixture of peroxide and shampoo, you can evenly spray it onto your toned hair.
After allowing the mixture to sit for a few minutes, typically less than five, you can proceed to wash your hair with warm water. As always, it is important to apply a high-quality hair conditioner afterward to counteract any potential damaging effects of the peroxide.
How to care for your hair after toner removal
Opt for a hydrating and gentle shampoo: You should look for products that do not contain drying alcohols and sulfates. Instead, shampoos with ingredients like glycerin, plant oils, and xanthan gum help to nourish and moisturize your hair.

Follow up with a nourishing conditioner: After shampooing, always apply a nourishing conditioner. This step helps to replenish moisture and restore any lost nutrients in your hair. Again, choose a conditioner that suits your hair type and provides deep hydration.

Use a deep conditioning mask weekly: Treat your hair to a deep conditioning mask at least once a week. Deep conditioning masks provide moisture and nutrients, helping to keep your hair soft, shiny, and healthy. 

Massage your scalp and hair ends with nourishing oils: Regularly massage your scalp and the ends of your hair with nourishing oils such as coconut, almond, or jojoba oil. These oils help to moisturize your scalp, promote healthy hair growth, and provide added protection to your strands. 

Avoid immediate dye jobs: It is best to avoid any additional chemical processing, such as dyeing your hair, immediately after removing toner. Your hair becomes more vulnerable and fragile after the toner removal process, and subjecting it to further chemical treatments can lead to damage. Give your hair some time to recover and regain its strength before considering any new color treatments.

Schedule regular trims: Regular trims can help to prevent further damage and promote healthy hair growth. It is best to visit a professional hair stylist regularly to have your hair trimmed and maintain its overall health and appearance.
Final thoughts,
Whether it is clarifying shampoo, baking soda and vinegar, lemon juice and conditioner, dandruff shampoo, hydrogen peroxide, vitamin C treatment, or color-correcting products, each approach has its own benefits. Remember to exercise caution, perform patch tests, and be patient. 
After knowing how to remove toner from hair, you should pay attention to care for your hair with hydrating products, deep conditioning masks, nourishing oils, and by avoiding excessive chemical processing. Follow these methods to successfully remove toner and maintain healthy, beautiful hair!