When it comes to how to fix uneven bleached hair, it is not just limited to salons anymore. Nowadays, more and more girls are enthusiastic about bleaching their hair at home. Lightening hair color through bleaching is quite popular. 
However, certain risks are involved in bleaching your hair, with uneven bleaching being the most common issue. This often leaves us feeling upset and dissatisfied. Therefore, it is great to know how to fix uneven bleached hair as a useful trick. In this article, we will guide you on how to fix hair that has been bleached unevenly.
Causes of uneven bleaching results in hair
Let's first explore the reasons behind uneven bleaching results before we delve into the steps on how to fix uneven bleached hair.
Uneven application of hair bleach
One of the main reasons for uneven bleaching results is the uneven application of hair bleach. When you bleach your hair, reaching and seeing every part, particularly the back, inner areas, and sides, can be challenging. As a result, some sections of the hair may not receive enough bleach or may not be bleached at all, leading to uneven hair bleaching.
Uneven application of hair bleach can be addressed by thorough saturation of each section, using a timer to maintain consistent processing times, and dividing hair into smaller sections for more precise application. Additionally, seeking professional help or using a color brush and mirror help achieve a more even bleach result.
Inconsistent mixing of bleach
Uneven bleach mixing is another factor that can contribute to uneven hair bleaching. When the ingredients used for bleach, such as conditioner and another additive (typically white), are all the same shade, it becomes challenging to determine if they blend uniformly. 
If the bleach mixture is not evenly mixed, certain areas of your hair may be subjected to strong bleaching. In contrast, others may not receive enough, leading to an uneven bleaching outcome.
To address this issue, always start by reading the label on the bleach container, which provides instructions for different cleaning purposes. In addition, use the right measuring tools to ensure the right bleach-to-water ratios and mix in a ventilated area to prevent inhaling harmful fumes.
Varied hair porosity
The porosity of your hair can also contribute to uneven bleaching results. Hair porosity refers to how well your hair can absorb and retain moisture based on the structure of the outer layer called the cuticle. 
It is categorized into three types: high, medium, and low porosity. If your hair has uneven porosity, sections with high porosity will absorb the bleach faster than the rest of the hair. This discrepancy leads to uneven bleaching of the hair.
Incorrect application technique
Failing to section the hair properly is a prevalent mistake when applying bleach. Applying the bleach mixture directly without dividing the hair can lead to uneven distribution, resulting in a disastrous outcome. For longer and thicker hair, it is recommended to tie it into small sections using elastic bands. 
Begin with the lower sections and apply the bleach to the roots first, gradually moving towards the ends. One by one, open the sections and apply bleach, saving the top part for last. After applying the bleach, cover your hair with a shower cap for at least 30 minutes to allow the bleach to work its magic.
How to fix uneven bleached hair
In the previous section, we discussed the factors that can cause uneven bleaching results. If you want to learn how to fix uneven bleached hair, we have several methods to fix uneven hair bleaching. Let's explore these solutions in detail.
Opt for a darker hair dye shade
Suppose you feel self-conscious about the uneven hair color and want a quick and easy fix. In that case, one option is to dye your hair a darker shade, such as chocolate brown or black. Here's how you can do it:
Start by shampooing your hair and allowing it to dry completely.

Divide your hair into manageable sections.

Apply the dye evenly throughout your hair using a hair coloring brush.

Cover your hair with plastic wrap to prevent the dye from dripping and to enhance color absorption.

Follow the recommended time mentioned on the hair dye product (typically 30 to 40 minutes). Refer to the product instructions for the most accurate time recommendation.

Finally, rinse off the hair dye using cold water.
Reapply bleach to the entire hair
If you are determined to achieve the even color you desire, re-bleaching your hair is a viable option. However, it is important to note that you should wait at least 3 weeks after the initial bleaching before attempting to re-bleach. Frequent bleaching can damage your hair, making it dry and brittle. 
To prevent dryness, it is crucial to deep condition your hair between bleaching sessions. This will nourish and strengthen your roots, leaving them soft and shiny.
Here's how you can re-bleach your hair properly:
Mix the bleach, conditioner, and other necessary products in a bowl.

Divide your hair into sections and use a bleach brush to apply the mixture evenly throughout your hair.

Take your time during the application process to thoroughly cover all strands. Rushing can result in uneven bleaching.

Allow the bleach to work for approximately 45 minutes before washing it.

After rinsing, blow-dry your hair.
Tip: If you cannot see the inside, back, or sides of your hair, consider enlisting the help of a friend or family member to ensure even application and avoid uneven bleaching. Remember to condition your hair after the re-bleaching process to combat dryness.
Utilize toning shampoo for how to fix uneven bleached hair
If you are learning about how to fix uneven bleached hair at home, the toning shampoo is an effective solution for fixing unevenly bleached hair by adding a subtle hue. To use toning shampoo for this purpose, a little creativity is required. Contrasting colors can be used to correct the uneven shades in your hair. For example, if you have an orange shade, using a blue shampoo can help create a more evenly toned hair color.
Similarly, if you have lingering green strands in your bleached hair, applying a red shampoo can help balance it, as green and red are opposite on the color spectrum. Here are a few more examples:
– Purple color can help fix yellow-looking hair, often due to silver bleach.
– Sun-kissed orange hair can help correct an ashy or grey undertone, providing a warm color.
To see results, use toning shampoo two to three times a week. Be cautious not to overdo it, as shampoos can be drying for the hair and may not provide adequate nourishment. It's important to continue your regular hair care routine, including using hair masks, oils, and conditioners, to keep your hair hydrated and prevent damage.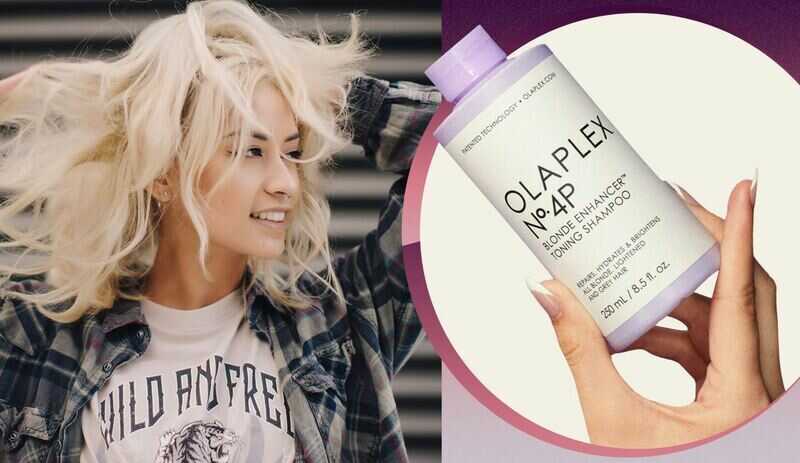 Hair care tips after bleaching
Once you have achieved the desired blonde look after applying the above methods on how to fix uneven bleached hair, the next crucial step is to focus on hair care to replenish the lost oils. Bleaching strips the hair of natural oils, leaving it extremely frizzy, fragile, and dull.
Rinse your hair with cold water
To prevent further damage to bleached hair and avoid worsening its condition, it is important to avoid using hot water during washing. Hot water and the resulting steam can open the hair cuticles, damaging the bleached strands more. Instead, wash your hair with medium to slightly warm water, as this helps close the hair cuticle and retain moisture.
After each wash, consider applying Moroccanoil Treatment Oil, a lightweight product highly regarded by hairstylists and celebrities for its remarkable results. When applying the oil, ensure your scalp is clean, as the hair follicles will absorb the beneficial nutrients and protect your hair.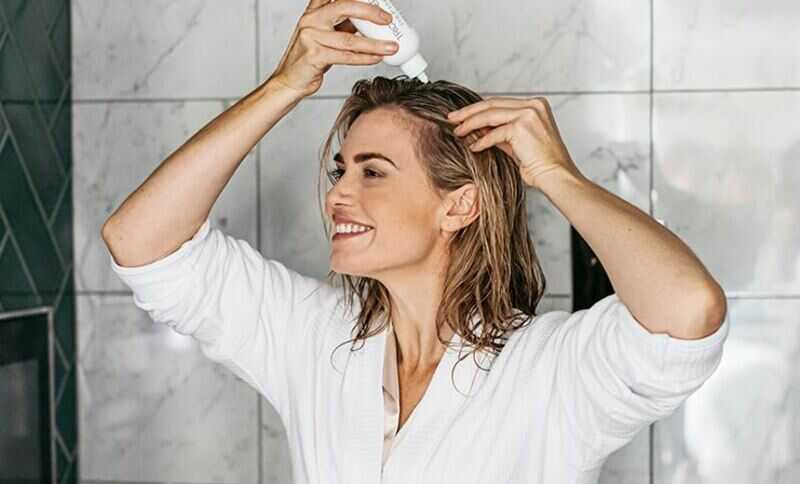 Improve your diet
Enhancing your diet is a highly effective method for caring for bleached hair. To maintain the health of your hair, consider incorporating a variety of nutrients into your diet, such as multivitamins, minerals, and omega-3 fatty acids. These essential nutrients contribute to a healthy scalp and hair, producing soft and strong hair strands.
Perform deep conditioning for your hair
Bleached hair is often prone to dryness, but there are effective ways to address this issue. One of the most beneficial approaches is incorporating deep conditioning into your hair care routine. Deep conditioning treatments provide essential moisture to dehydrated hair, improving softness and hydration. 
These treatments are particularly beneficial for hair damaged by chemical treatments or exposure to heat. Additionally, deep conditioning helps enhance hair elasticity by restoring moisture, enabling it to withstand stretching and tension while safeguarding against breakage.
Another effective method to hydrate your hair is to apply a hydrating mask weekly. This regular treatment contributes to smoother and stronger hair strands, as it replenishes moisture and nourishes the hair.
Finally,
After reading this article, are you now familiar with the techniques on how to fix uneven bleached hair? If you are currently dealing with uneven hair bleaching, it's recommended to try these methods promptly. Additionally, if you have any alternative approaches that you believe could be more effective, feel free to share them with us!