Have you ever been captivated by the beautiful world of braided hairstyles, combined with the durability and flexibility of a sew-in installation? Today, Jen Hair will explore the process for achieving flawless braids with sew in, from the very first steps of preparation to the essential maintenance. 
No matter if you are a seasoned braider or new to the world of sew-ins, you can dive deep into the intricacies of this stunning hairstyle fusion. By the end, you will be armed with all the knowledge to create stunning braids with sew in styles that will turn heads and leave you feeling fabulous. So, let's get started!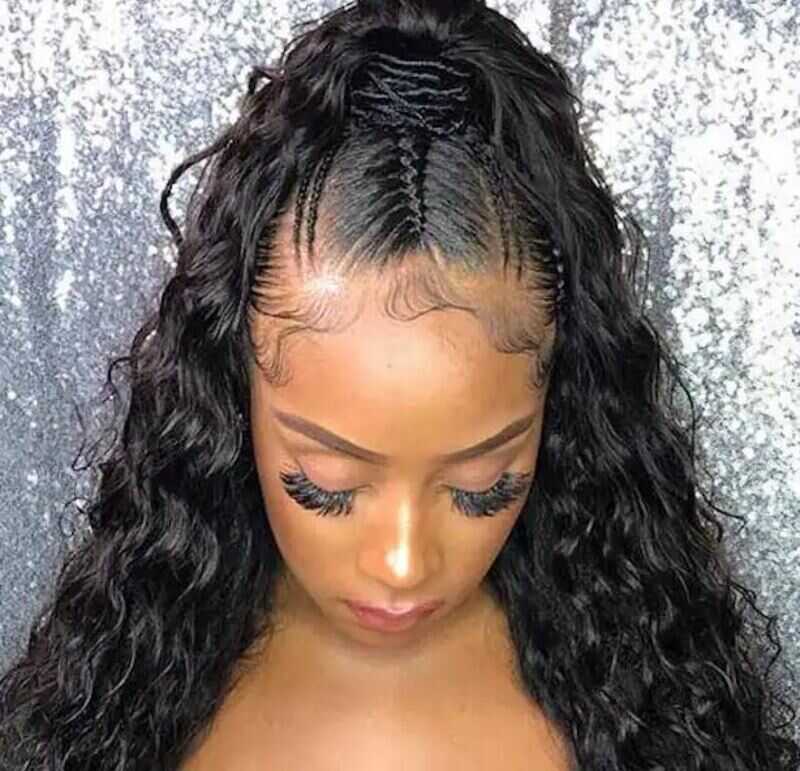 What are braids with sew in?
Braids with sew-in, also known as braids with a sew-in weave or extensions, is a popular hairstyle that combines braiding with the sewing technique in hair extensions. It involves creating various braids, such as cornrows, box braids, or individual braids, and then attaching hair wefts or extensions to them using a needle and thread.
This hairstyle is commonly applied for various special events, vacations, and suitable for busy lifestyles. They serve as a protective style to promote hair growth and minimizing damage. Braids with sew-in are also favored during hair transitions or as hairstyle changing. These versatile hairstyles require less daily maintenance and offer a range of styling options.
The sew-in method provides several advantages. Firstly, it offers added length, volume, and thickness to the natural hair, allowing for endless styling possibilities. Additionally, the sew-in technique provides a long-lasting hold, making it suitable for individuals with different hair textures and lengths. It also helps to protect the natural hair by reducing manipulation and tension on the strands.
Braids with sew in can be customized to suit individual preferences, with options for different hair textures, colours, and lengths. This hairstyle is favoured by many because it provides a low-maintenance solution while still allowing for creativity and versatility in styling.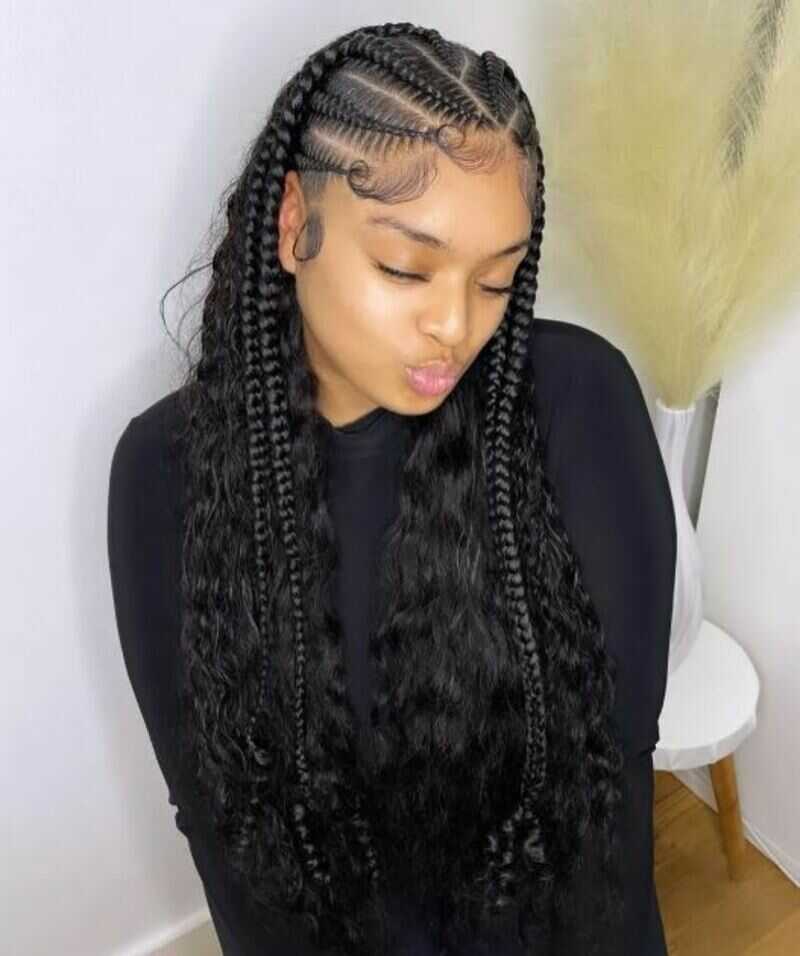 Preparation for Braids with Sew In
Preparing for braids with sew in involves a few essential steps to ensure a successful and long-lasting result. Here's essential things you need to do:
Determine your desired style: Choose the braids you want to create, such as cornrows, box braids, or individual braids. Consider the size, length, and pattern of the braids you prefer, as this will influence the overall look.

Gather your materials: Ensure you have all the necessary supplies before you begin. This includes a comb, sectioning clips, hair extensions or wefts, a curved needle, weaving thread, scissors, and hair products like moisturizers, oils, and edge control.

Wash and condition your hair: Start with clean hair by shampooing and conditioning it thoroughly. This will help remove any product buildup or oils that might interfere with braiding. Ensure your hair is completely dry before proceeding.

Moisturize and detangle: Apply a moisturizing leave-in conditioner or oil to your hair to keep it hydrated and manageable. Gently detangle your hair using a wide-toothed comb or fingers, starting from the ends and working up to the roots. This step is crucial to prevent unnecessary tension and breakage during braiding.

Scalp care: Prioritize your scalp health using a lightweight oil or scalp treatment to nourish and soothe your scalp. This step helps to prevent dryness, itchiness, and irritation that can occur when wearing braids.

Preparing the extensions: If you are using hair extensions, ensure they are clean, untangled, and ready for installation. If needed, trim the extensions to your desired length.
Braiding Process
Once you have the preparation process completed, it's time to dive into the braiding process for your sew-in. 
Step 1: Sectioning the hair
Begin by sectioning your hair according to your desired braid pattern. Use sectioning clips to secure each section and keep them organized while you work. This step ensures you have a clear and manageable area to braid.
Step 2: Braiding techniques for sewing in
When it comes to braiding techniques for sew-in hairstyles, you have a variety of options to choose from. Each technique offers a unique and stylish look. Here are some popular braiding techniques that work well with sew-in:
1. Cornrows
Cornrows are a classic and versatile braiding technique. They involve braiding the hair close to the scalp in neat and even rows. Cornrows can be done in straight lines or intricate patterns, allowing you to create various designs. With sew-in, cornrows provide a solid foundation for attaching the extensions and allow for easy styling and maintenance.
2. Box braids
Box braids are thick and individual braids that can be achieved by sectioning the hair into square or rectangular sections. These braids are created by weaving synthetic or natural hair extensions with your natural hair. 
Box braids are versatile and can be styled in various ways, including updos, ponytails, or left loose for a flowing look.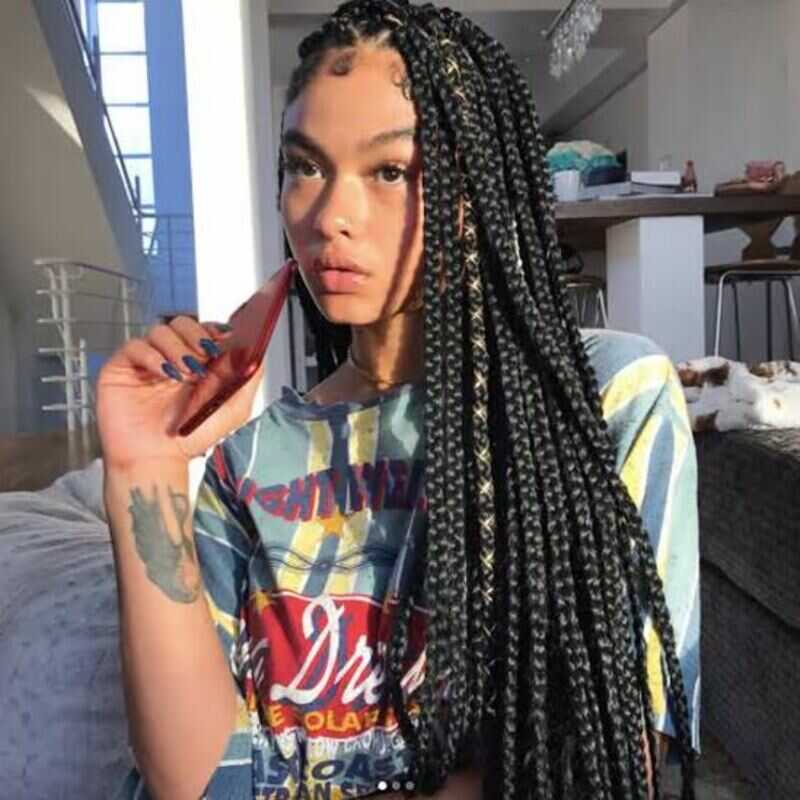 3. Senegalese twists
Senegalese twists are similar to box braids but are typically smaller in size. They are created by twisting synthetic or natural hair extensions with your own hair. Senegalese twists offer a sleek and polished look. They can be styled into various updos or left loose for a vibrant, textured appearance.
4. Micro braids
Micro braids are tiny and delicate braids that require sectioning the hair into small sections and braiding each one individually. These braids are intricate and can create a stunning and detailed look. Micro braids require precision and patience during braiding but can result in a unique and eye-catching hairstyle.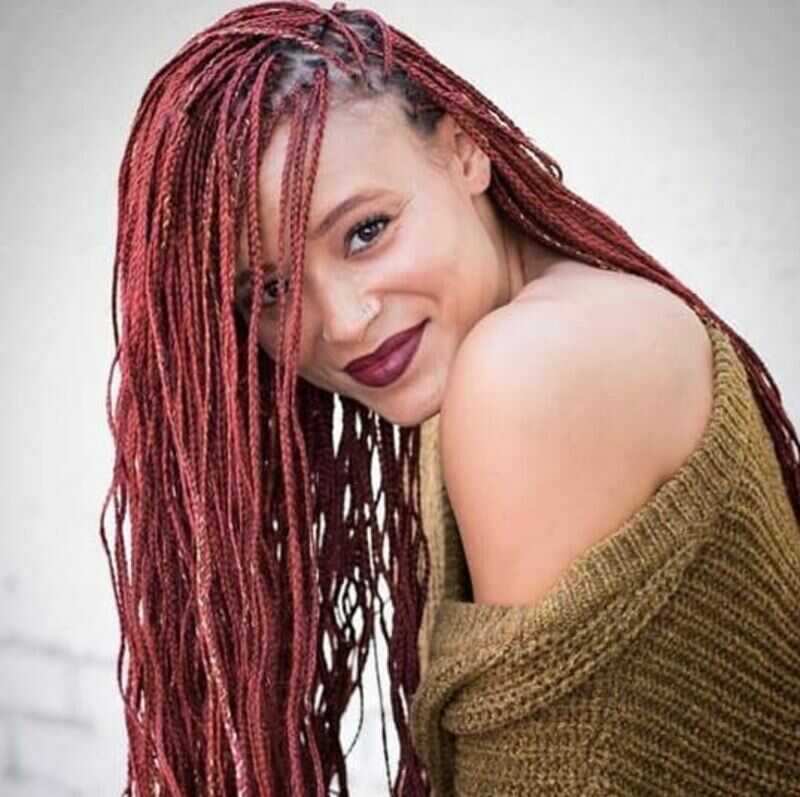 5. Two braids with sew in
You can opt for the classic two braids style for a simpler yet stylish look. Part your hair down the middle and create two even braids on each side. This style is popular for its simplicity and versatility. It lets you wear the braids loose or style them into various updos or ponytails.
6. Tribal braids with sew in
Tribal braids are a bold, striking braiding style incorporating intricate patterns and designs. These braids can be made in various thicknesses and sizes, and the patterns can be customized. Tribal braids with sew-in offer a unique and artistic look that makes a statement.
Step 3: Attaching the hair extensions
Once the braids are complete, attach the hair extensions. Take a hair weft or extension and position it along the base of the braid. Use a curved needle and weaving thread to sew the extension onto the braid. Start from the top and work your way down, securing the extension tightly. Repeat this process for each braid.
Step 4: Securing the braids
To ensure the longevity and neatness of your braids, secure the ends of each braid using a small elastic band or by carefully applying a heat sealant. This step prevents unravelling and maintains a polished look.
Styling Options with Braids with Sew In
Let's explore styling options with this hairstyle. Here are some popular styling options to enhance your braided look:
Updo hairstyles
Updos are a classic and elegant choice for braids with sew-in. Gather your braids and create an updo by twisting, pinning, or braiding them into a bun or a chignon. 
You can experiment with variations like a topknot, a braided crown, or a twisted updo. Updos showcase the beauty of your braids and keep your hair off your face and neck, making them perfect for special occasions or hot weather.
Half-up, half-down styles
Try half-up, half-down styles with your braids for a versatile and trendy look. You can create various half-up hairstyles by pulling back your braids' front or top sections and securing them with bobby pins or hair ties. 
This style allows you to enjoy the beauty of your braids while leaving some of your hair flowing freely. Add braided or twisted accents to the half-up section for added flair.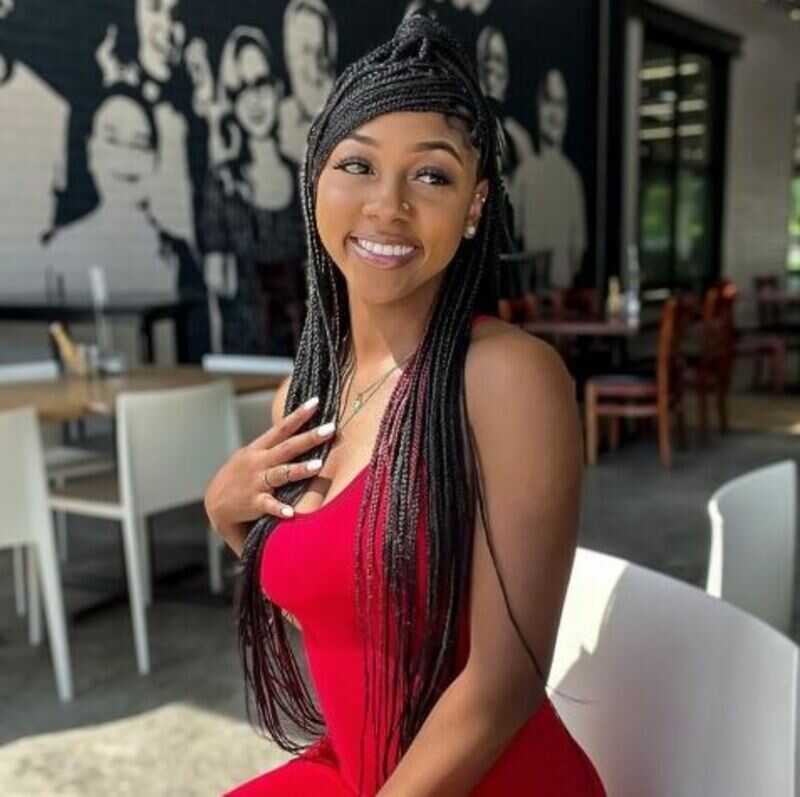 Ponytails and high buns
Ponytails and high buns are go-to options for a chic and effortless look. Gather your braids into a high ponytail or bun, securing them with a hair tie or pins. 
You can create a sleek, polished look or opt for a more textured and voluminous style. Experiment with different ponytail or bun placements, such as a side ponytail or a low bun, to add variety to your braided hairstyle.
Accessorizing the braids
Take your braids with sew in to the next level by accessorizing them. Add a touch of glamour with decorative hair cuffs, beads, or shells. You can weave these accessories into your braids or attach them at the ends. 
Experiment with different colours and sizes to create a unique and personalized look. Headbands, scarves, and hair wraps can add a stylish touch to your braided hairstyle.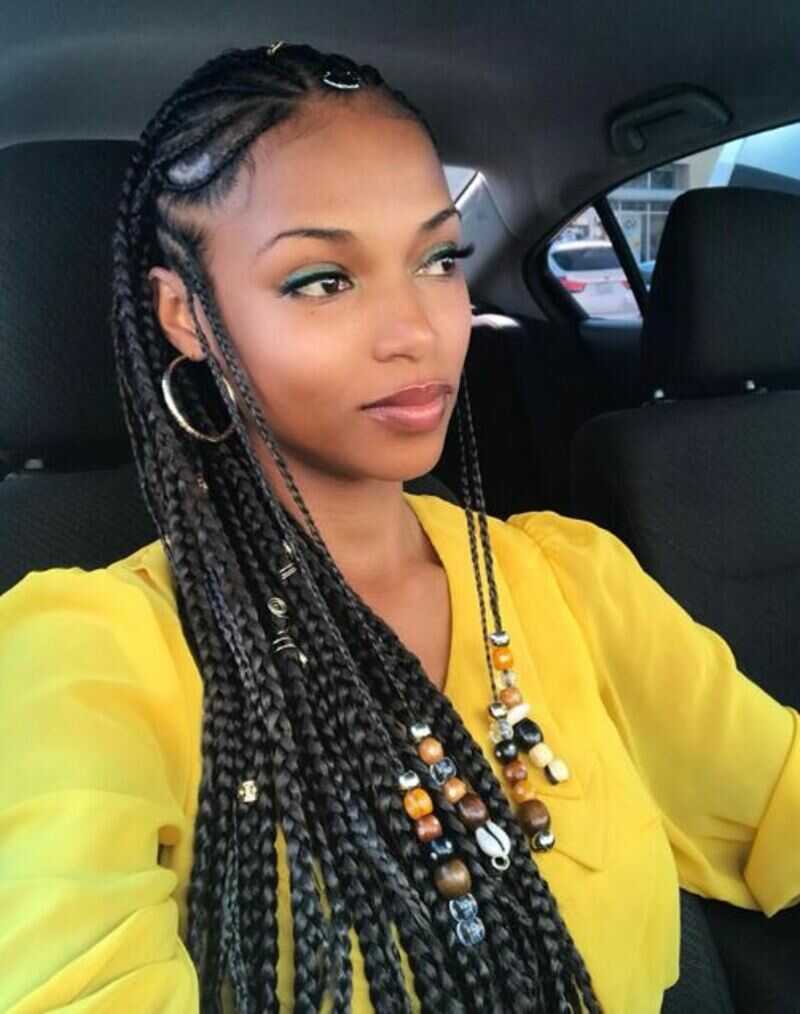 Maintenance and Care
Proper maintenance and care are essential to keep your braids with sew-in looking fresh, healthy, and long-lasting. Follow these guidelines to maintain your braided hairstyle:
Washing and conditioning the hair
Although you have braids, keeping your scalp and natural hair clean and moisturized is important. Dilute a sulfate-free shampoo with water and gently massage it onto your scalp, focusing on the roots. 
Rinse thoroughly, being careful not to disturb the braids. Follow up with a lightweight conditioner, applying it to the mid-lengths and ends of your hair. Rinse again, ensuring that no product residue remains.
Protecting the hair at night
Before going to bed, protect your braids by wrapping your hair with a satin or silk scarf or using a satin or silk pillowcase. These materials help minimize friction and reduce the chances of frizz or damage. Alternatively, you can use a satin or silk bonnet to cover your braids.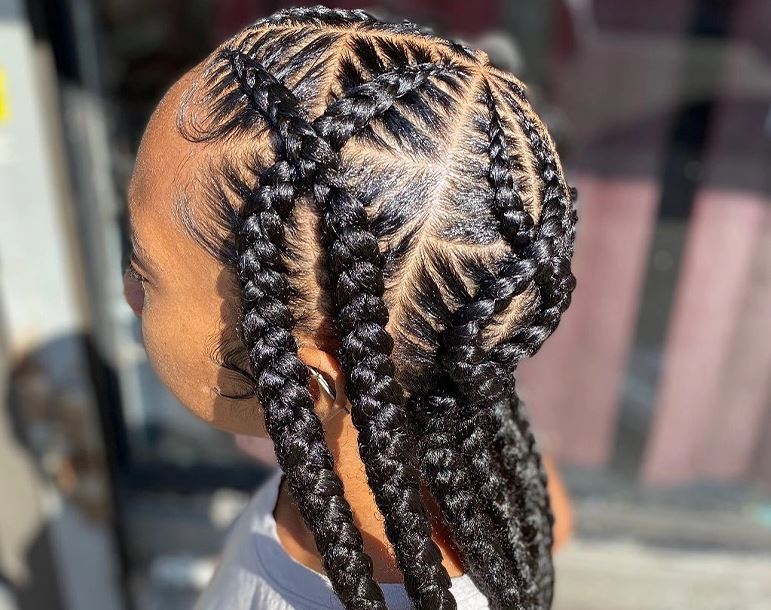 Retouching the braids as needed
Over time, as your natural hair grows, you may notice some new growth along the scalp. To maintain a polished appearance:
Consider retouching the braids near the roots.

Gently undo a small section of the braids at the hairline, close to the scalp, and re-braid the new growth following the original pattern.

Be cautious not to disturb or damage the rest of the braids.
This retouching process helps to maintain a cleaner and neater look throughout the lifespan of your braided hairstyle.
Avoiding tension and excessive pulling
To preserve the integrity of your braids and prevent unnecessary breakage:
Avoid tension and excessive pulling.

Be cautious when styling, tying up your hair, or wearing accessories that could strain the braids.

Use gentle hair ties or scrunchies when securing your braids in ponytails or updos.

Avoid excessive pulling or tugging on the braids when washing or styling your hair.

Treat your braids with care and handle them delicately to maintain their longevity.
Tips and Tricks
Regarding braids with sew-in hairstyle, several tips and tricks can enhance your overall experience and ensure the best results. 
Choosing the appropriate hair extensions
Selecting the right type of hair extensions is crucial for achieving the desired look and maintaining the longevity of your braided style. Look for high-quality extensions made from natural hair or synthetic materials designed for braiding. Consider factors such as texture, length, and colour to match your natural hair seamlessly. 
Proper scalp care during the braiding process
While braiding, it's important to prioritize scalp care to promote a healthy environment for your hair. Apply a lightweight oil or scalp treatment before braiding to moisturize and nourish your scalp. Avoid excessive tension or pulling that can cause discomfort or damage. Take breaks if needed to rest your scalp and prevent any soreness. 
Using lightweight and breathable materials
Opt for lightweight and breathable materials when choosing accessories or products for your braids. Heavy hair accessories or products can strain your scalp and cause unnecessary tension in the braids. Use lightweight hair ties, clips, or pins to secure your braids without adding excessive weight.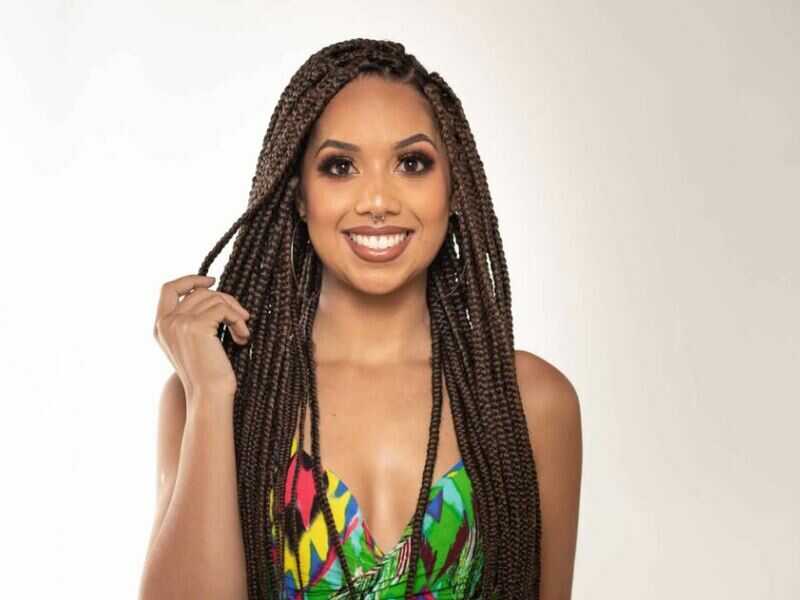 In Conclusion,
Achieving stunning braids with sew in involves a complete process from preparation to maintenance. Proper sectioning, braiding techniques, and secure attachment of extensions are key. Regular maintenance ensures longevity, including washing, protecting at night, retouching, and avoiding tension. Also, remember to choose appropriate extensions, care for your scalp, and use lightweight materials for a great experience. With proper preparation and maintenance, you can enjoy beautiful and long-lasting braids.
Good luck!