"Please, my only wish is beautiful long hair when I get up the next morning!" "A long beach wave hair will be perfect to go to my bestie's birthday this weekend, but currently my hair is short!"
Do you lose count of how many times you have made this prayer? The real hack is, gluing in extensions for your short hair! Gluing hair extensions can completely transform your look in an hour, so this is worth the effort. Moreover, you can glue in extensions for your short hair yourself at home!
So, how to do it correctly? In this post, Jen Hair will provide you with a step-by-step guide on How to glue in extensions for short hair. Let's read on!
How to glue in extensions for short hair?
To glue in extensions for short hair, we recommend that your hair needs to be 8 inches long or about 20 centimeters. Now, let's start gluing extensions to your short hair!
Step 1: Prepare your own hair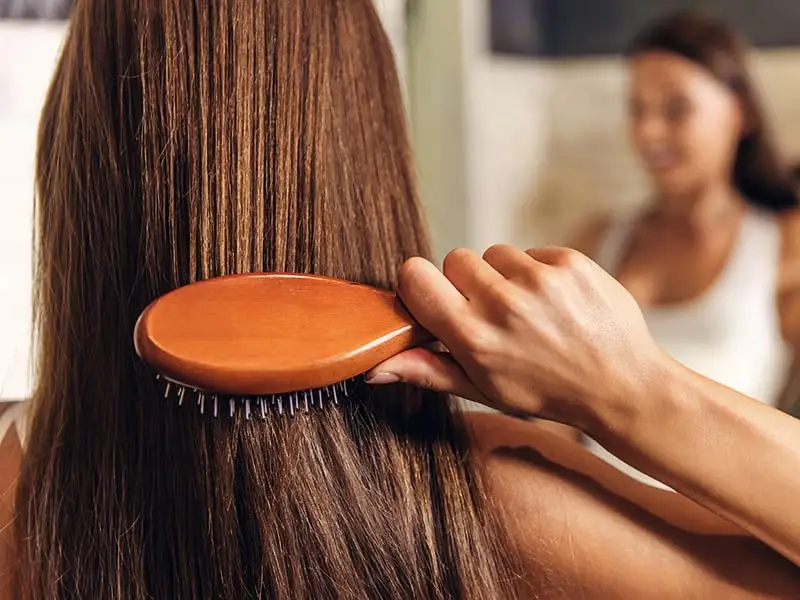 Wash and dry your hair thoroughly before putting extensions in short hair. Then, blow-dry the hair. Let it be smooth with a brush. You should stay away from tangles and the like when you attach the extension. This not only protects your hair but also prolongs the life of the extension. If you leave your hair dirty before applying the wefts, the hair can easily come out.
Step 2: Glue-in extensions for your short hair
Part the hair from the other ear from the middle of one ear and use a clip to secure the top part. You should leave a thin hair layer on the bottom. Then put glue on the first strip of extension. Wait a couple of seconds for it to retain a slightly sticky feel. Use the fingers to grip the extension. Apply it under the parting. Be sure you do not stick your extension on your scalp.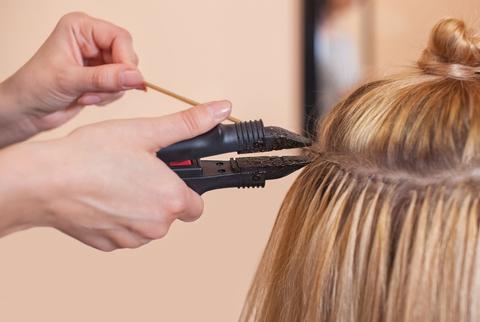 Put gentle pressure by the hand. That way makes the glue adhere to your hair's layer. Let it set more quickly by blow-drying. Try and tug on your extensions with care to check whether the gluing is proper. Then remove the clip from the hair. Part the strands higher. It should be 1 inch or so from the bottom extension. Carry out the same process of gluing again.
Once you have attained beyond your ears' top, glue your extensions on the sides. It is possible to have several small pieces appearing next to each other. That way helps hide them with more ease.
Step 3: Cut and style
Once you're done putting extensions in short hair, start styling your new hair with extensions the way you want it to, such as bangs or lobs,… Remember that your hair will carry the weight of additional tresses; thus, the thinner and weaker it is, the shorter your extensions should be.
Note: Select white bonding glue for lighter hair or black glue for dark hair. Your extensions shouldn't show through your hair, but they'll blend more naturally if the glue matches the color of the extensions. If your hair has different color tones, choose two colors to be sandwiched together to create a more natural or even highlighted look.
FAQs on glue-in extensions for short hair
1. How to dry glue in hair extensions on short hair?
Step 1: Make it dry with a hairdryer
Start with the roots; rely on the low or cold thermal setting to keep away from heat application on your bonds. 
Step 2: Move the dryer downwards
Do not pull your extensions excessively while you are drying. It can make them fix less tight.
2. How to remove glue in hair extensions on short hair?
Spritz several drops of the particular solvent at the point of application. Then, press for the solution to soak in with more ease and break the keratin. After that, get rid of the lock and any remaining keratin with a comb of which teeth should be fine. The cleaning will follow.
3. Which extension glue is best for short hair?
There are two types of glue: regular glue and keratin glue. They both offer similar results, but keratin has an advantage due to its natural formula and elements. The downside is that this type of extension can be quite pricey, and the application process is time-consuming lasting around two to four hours
Final thoughts
Above we have provided instructions on the methods at home as well as answered some frequently asked questions about glue in extensions for short hair. Wish you satisfactory and healthy hair.
If you find this guide useful, do not hesitate to like and follow our page for more related articles on hair extensions coming soon.